An Inaugural Ceremony of Pakistan Navy's Mangroves Plantation Campaign 2021 was held at Bhambore Creek, along the coast of Sind province. Vice Admiral Zahid Ilyas (HI(M) S Bt, Commander Coast was chief guest of the event. This was Pakistan Navy's sixth mangroves plantation campaign since 2016. Since 2016 Pakistan Navy has planted around 7.00 million mangrove saplings. Mr. Mahmood Akhtar Cheema, Country Representative, IUCN Pakistan was the keynote speaker at the event.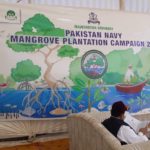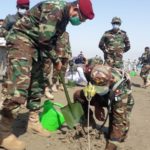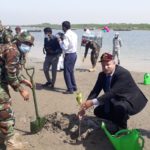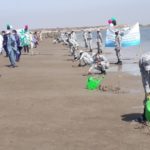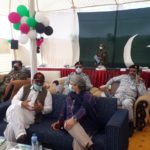 Mr. Mahmood Akhtar Cheema congratulated Vice Admiral Zahid Ilyas for his commitment of planting mangrove saplings along the coasts of Sindh and Balochistan. He said that the inaugural ceremony of Pakistan Navy's Mangroves Plantation Campaign 2021 is a testimony to this commitment and dedication. He also appreciated Pakistan Navy's support in getting Astola island declared as Pakistan's first ever Marine Protected Area. This declaration has created a positive image of Pakistan in the world. He mentioned the Reed Bed wastewater treatment system established by the Pakistan Navy at Manora in partnership with the Mangroves for the Future (MFF) programme and replicated at several other Navy facilities is a truly wonderful example an eco-friendly initiative. It has been replicated at different Naval Units, which is a model wastewater treatment system.
Keeping in view the declaration of Decade of Ecosystem Restoration (2021-2030) by the United Nations, he strongly recommended to Pakistan Navy and the other stakeholders for furthering efforts for the restoration of the unique mangroves ecosystem in Pakistan and also recommended enhancing the focus on environment during the next AMAN Exercise.
On behalf of IUCN Pakistan he assured every possible support to Pakistan Navy to take this Campaign forward.
The other prominent personalities participated in the event included: Rear Admiral (R) Syed Hasan Nasir Shah, Chairman, Port Qasim Authority; Dr. Badar Jamil Mandhro, Secretary, Forest & Wildlife Department; Mr. Riaz Ahmad Wagan, Chief Conservator Forest; and Dr. Samina Kidwai, Director General, National Institute of Oceanography.